Report on CanCham's Focus on Professional Women
22.02.2020


---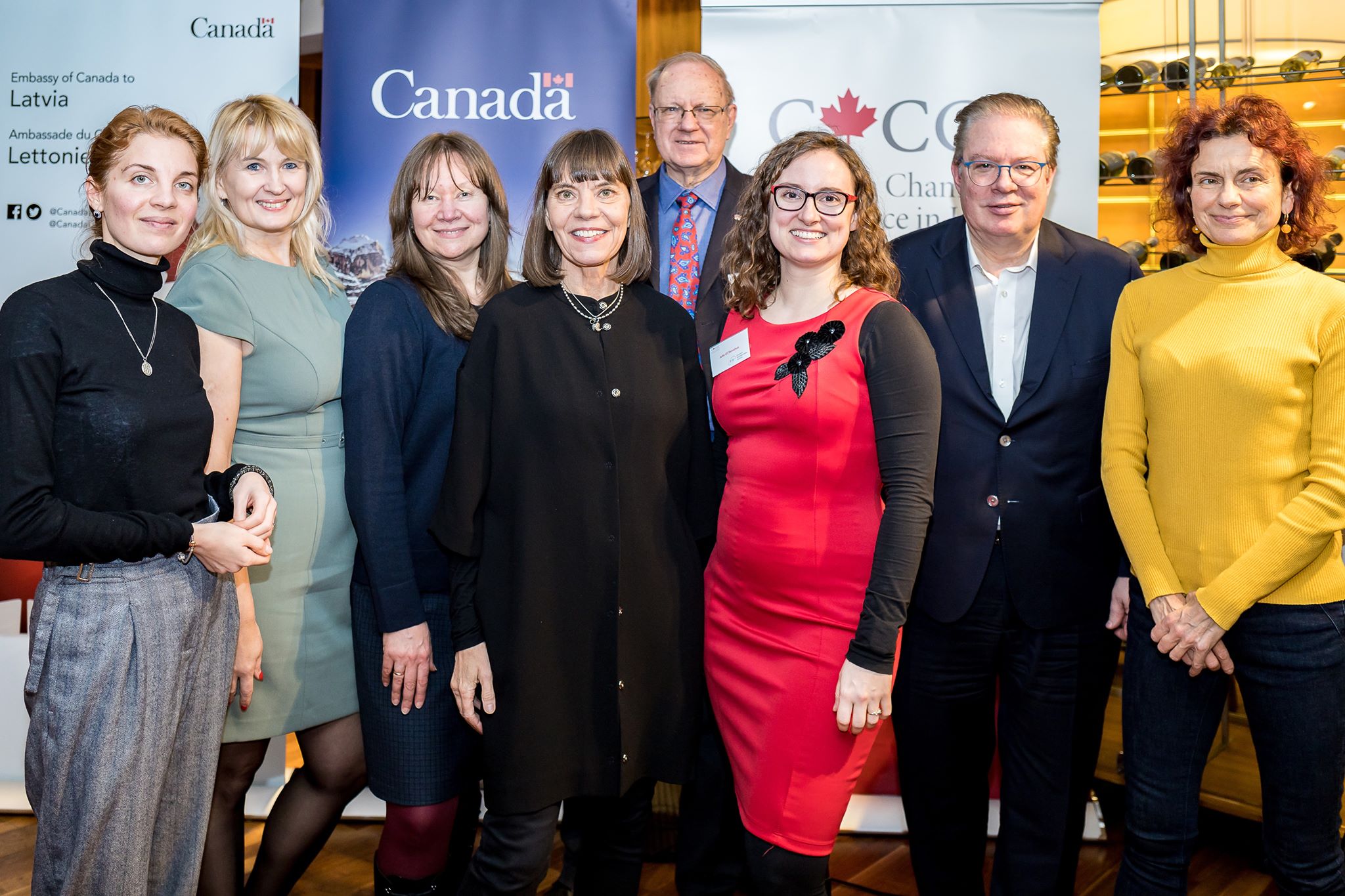 For pictures, see CanCham's Focus in Professional Women
The CanCham together with the Canadian Embassy in Latvia initiated a new program at the suggestion of Irena Cirule, the Commercial Officer at Canadian Embassy in Latvia with a Focus on Professional Women on Wednesday, February 19th at 18.30 at the Radisson Blu Elizabete Hotel. Gentlemen were enthusiastic listeners.
Una Brűna, Vice President of the Canadian Chamber of Commerce in Latvia and General Manager of the Latvian American Eye Centre, welcomed our guests by recognizing the Canadian Embassy in Latvia which sponsored the Canadian wines offered as a welcome drink and Medîgas which provided flowers to adorn the dinner tables. We also welcomed two new corporate members Baiba Krűmiňa from AMETROS, Arta Baţovska of VentEko, and individual member Sintija Frienberga who provides tax consulting and accounting services. Corporate Contributing members Exupery International School and Savoie Arbitration, and Senior Corporate Members Singh's Restaurants and Indian Raja Indian Restaurant were recognized for their support of the CanCham. Next event will be a special CanCham Corner Celebrating "International Women's Day" (Sievieđu diena) with a Spa and Zole night at the Baltic Beach Hotel & Spa on Monday, March 9th at 18.30 preceded with meetings of the Construction Services and Health & Leisure Groups at 17.30
We were pleased to welcome Tuija Seipell on her first visit from Canada, a Canadian speaker, business advisor & long-time editor at TheCoolHunter.net. She works in customer experience, design, trends, retail, branding, tourism, creativity, innovation & emotions, especially courage & hope. Clients & collaborations include Nike, Harley Davidson & IDEO & organisations across Europe & North America. Tuija's strong business background, Scandinavian sensibilities & North-American business & life experience give her a unique, strategic, big-picture perspective.
The theme of Tuija's talk was; What does it take to build a successful business – preferably with your sanity intact! covering issues such as customer-centricity, values and trends, and the importance on focusing on objectives, the importance of having your customers "love" you and the need to avoid unpleasant situations for clients.
Tuija was followed by Julie O'Donohue of the Exupery International School who spoke about her experiences that brought her to Latvia from Canada via Azerbaijan and South Korea in the role of an educator and leader in the teaching profession, and how she left the safe confines of Canada in a leap of faith to explore the world. Her numerous experiences were educational experiences in themselves, but also reflected the chauvinism In various sectors of society, and what women need to put up with to serve humanity. Quite enlightening! On top of that, Julie supplemented her two Bachelor's degrees with a recently completed master's degree, the latter during fulfilling the duties in a full time position in and unfamiliar country. We can only congratulate Julie on her fortitude and energy and wish her all the best in her next steps.
We then enjoyed the two course dinner with glass of house wine or beer will included a grilled beetroot with nut crumbs, grilled cheese, lettuce, pickled carrots and hemp oil starter followed by a main course of either grilled duck breast served with sweet pumpkin puree, apple gel, lightly fried asparagus and red wine sauce with goji berries OR grilled cod served with grilled vegetables, pak choi, quinoa and white wine sauce at the Restaurant C.U.T.
Please follow news for updates, and events for upcoming events
---
Back