Upcoming Events 17.04.2019


April 30 to May 2 - SIAL Canada, an International Food & Beverage Tradeshow at Toronto's Enercare Centre

https://sialcanada.com/en/

.

Mission organized by the Latvian Development Agency and the Canadian Embassy in Latvia. For information, contact Irena Cirule, Commercial Officer, Canadian Embassy in Latvia at

Irena.Cirule@international.gc.ca

02.05

Thursday, May 2 at 16.00 – CanCham Healthcare and Medical Tourism Group meeting at Technical Partners offices (109 Vienības gatve, Unity Business Centre office 5.7.1).

13.05
Monday, May 13 at 18.30
15
CanCham Focus on Canada and the Canadian Embassy with H.E. Kevin Rex, Canadian Government Ambassador to Latvia

Monday, June 3 at 18.30 – CanCham "Speed Dating" Networking event. Get to know the CanCham members and friends.

04.06

June 4 to 6 - Advanced Design & Manufacturing Expo at

Toronto's Congress Centre

https://admtoronto.com/

. Mission organized by the Latvian Development Agency and the Canadian Embassy in Latvia. For information, contact Irena Cirule, Commercial Officer, Canadian Embassy in Latvia at

Irena.Cirule@international.gc.ca

30.06
Monday, June 30 at 14.00 - Canada Day Celebration
07.10
Monday, October 7th at 18.30 – AGM
14.10
Monday, October 14th at 18.30 - Thanksgiving Dinner
02.12
Monday, December 2nd at 18.30 CanCham Christmas
Please note that dates are tentative until events are publicized, and may be subject to change.
Please follow http://cancham.lv/events and http://cancham.lv/news for updates.
To join - http://cancham.lv/about-cancham/application
| | |
| --- | --- |
| | |
---
---
Report on "Latvia as a Commercial" Hub with Prime Minister Krišjānis Kariņš 28.03.2019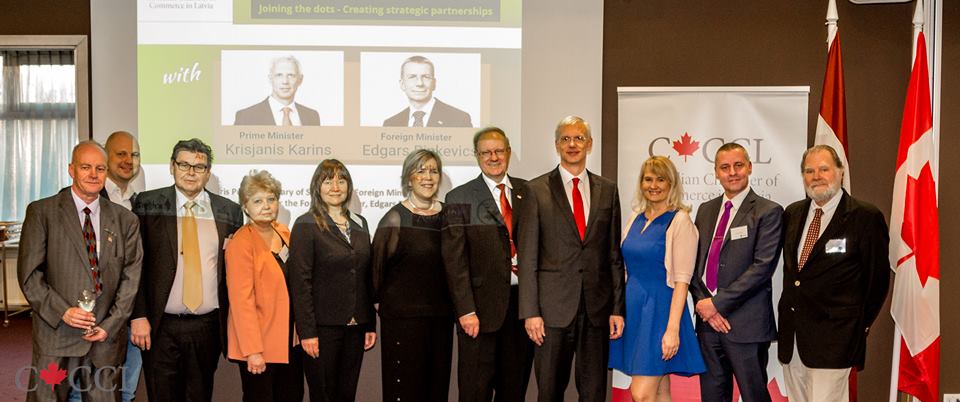 CanCham's "Latvia as a Commercial" Hub with Prime Minister Krišjānis Kariņš and Foreign Minister Edgars Rinkēvičs took place on Tuesday, March 26th, 2019 at 18.00 at the Radisson Blu Latvija Hotel. Unfortunately, the Foreign Minister had come down with pneumonia. Andris Pelšs, Secretary of State of the Foreign Ministry of Latvia stood in for the Foreign Minister to answer relevant questions. Sixty people were in attendance, along with many new faces.
Ed Kalvins started with announcements recognizing Senior Corporate members Singh's Restaurants http://www.singhs.lv/ and Bite Business https://www.bite.lv/lv and thanking Medigas https://www.facebook.com/ZSMedigas/ for sponsoring the flowers for the evening. The following new members were introduced: Corporate: Baltic Beach Hotel https://www.balticbeach.lv/, CBRE Baltics http://www.cbre.lv/en/, Satori Alfa https://goldberry.lv/en/about-us/, the International School of Riga https://isriga.lv/, Leinonen http://www.leinonen.lv/en, Exupery International School https://exupery.lv/, Granitops https://en.granitops.eu/; Business: AmberWork sarmite.teibe@app.com.lv, LaNoDe olga.godo@me.com, Jauna Forma http://www.antares.lv/; Individual: Kavitvana http://kavitvana.com/ENG_index.html, and Rohit Madaan https://rohitmadaan.com/.
Ed Kalvins then announced the launch of CanCham's DMC (Destination Management Coordinator) initiative http://cancham.lv/dmc having completed the development stage and now being implemented with the objective of building strategic partnerships & personal relationships with Canada and other international partners to promote business opportunities for CanCham members concentrating on trade facilitation & export, medical tourism and construction related services. This is the basis of considering Latvia to be a important commercial hub which lead to the introduction of Prime Minister Krišjānis Kariņš to speak about the Latvian situation.
The Prime Minister started to speak in French, which took everyone by surprise, but which demonstrated his international capability. We remember his recent exchange with Angela Merkel of Germany - in German. A very positive impression! Then switching to perfect English, he demonstrated why he is the man for the job. During his address, he clearly demonstrated that he sees problems and has a vision how to deal with them.
Mr Kariņš is a Latvian-American who operated a business in Latvia before going into politics, and as a father of four children, has a good handle on real life. He noted an example of where architects design walkways, but people tend to cut corners over grass eventually creating a mud path leaving the architect's path unused. He extrapolated this to how governments design systems based on what bureaucrats think and not what users want to use, and vowed to make changes accordingly.
He stated that his main challenge is that his influence is limited by his government partners, and explained that with four other parties making up the governing coalition with his party being the smallest, he has no mandate to make unilateral decisions. Although most coalition partners are cooperating well, there are some disagreements.
As an example, the Prime Minister cited the immigration issue, where two coalition partners are totally against any form of immigration (except the return of diaspora Latvians), but two parties recognize the need for skilled labour to meet economic growth opportunities.
The banking sector received due consideration because of recent money laundering issues that potentially could damage Latvia's credibility. He referred to the closing of the Aizkraukles Bank, one of Latvia's leading banks, and the involvement of other banks in the region. Kariņš lamented that it took American involvement to identify the Aizkraukles Bank situation, which really should have been the responsibility of Latvian and EU bank regulators. His position was that the Central European Bank should provide oversight over member states. A question was also raised about the difficulty of foreign persons being able to open bank accounts in Latvia. The Prime Minister indicated that this was being addressed in continuing reforms in the banking sector.
Another area receiving considerable attention is related to regional reform. The aim is to focus development around major towns and cities outside Riga in order to streamline the administrative apparatus. This has a direct affect on both the educational and healthcare systems which are currently struggling with funding and manpower issues. A question was raised as to the situation that healthcare services are available in Riga, but are lacking the rest of the country. Kariņš is convinced that regional reform will improve the efficiency of our systems and make better use of available funding and provide the required services.
The education system was also discussed, particularly as it relates to the trades, or the lack of attention being given to trade schools. It seems that the younger generation is being trained for universities, but if they drop out of high school or do not go to university, there are limited options available. This is also being addressed.
It is clear that there are many issues, and the Prime Minister asked for both support and feedback as the government improves the situation in Latvia. Those present were pleased with both the candid remarks and a sense of direction demonstrated by Prime Minister Krišjānis Kariņš. We wish him well and commit to supporting his efforts.
For pictures, see https://www.facebook.com/pg/canchamlatvia/posts/?ref=page_internal
Please follow http://cancham.lv/news for updates.
---
Latvia as a Commercial Hub with Prime Minister Krišjānis Kariņš and Foreign Minister Edgars Rinkēvičs on Tuesday, March 26th, 2019 at 18.00 at the Radisson Blu Latvija Hotel 26.03.2019



Dear CanCham Members and Friends,
We are pleased to invite you CanCham's special dinner event - "Latvia as a Commercial Hub" with Prime Minister Krišjānis Kariņš and Foreign Minister Edgars Rinkēvičs.
Subjects of discussion will include:
the business climate in Latvia – trade, banks, investments,

regulations, energy – government priorities

attracting Canadian business to the region and the strategy of developing strategic partnerships through CanCham's DMC program,

CETA and its advantages for both sides,

the influence of the Canadian NATO commitment and the potential effect on business opportunities,

Latvia as a trade facilitator between Canada and the EU, Central Asia, Ukraine, Belarus and Russia, India and the Far East,

launch of the DMC program
Latvia has a geographic location that offers significant advantages over its neighbours. This, together with a recently signed free trade agreement (CETA) between the EU and Canada, the presence of Canadian NATO forces in Latvia, together with Latvia's European character but deep-rooted connections to the Russian speaking world makes it an excellent facilitator for commercial activities. Where airBaltic has become a regional transportation hub, Latvia has the potential of being a regional, if not global, commercial hub.
The CanCham has evaluated the success (or lack thereof) of current standard international business development approaches, whether they relate to import or export of services or equipment, or attracting investment, and has concluded that the DMC (Destination Management Coordination) approach and the development of strategic partnerships is the way to go. This is about joining the dots – connecting business people who can be useful to one another. We will be officially announcing the launch of the DMC program this evening.
Our newly formed government is instrumental in positioning Latvia as a credible commercial hub, yet there are sectors in our economy that must be, and are being dealt with. We are pleased to have Prime Minister Kariņš provide an overview of government priorities that deal with perceived issues. Also key to commercial development is the role of our embassies abroad and how they interact with Latvian entrepreneurs. Foreign Minister Rinkēvičs will address the role of our embassies and in particular, the role and effect of the Canadian connection. Their support is vital to reaching out internationally to develop and engage in ways to optimize Latvia's commercial performance, and we appreciate their effort in engaging with our members in seeking new development approaches to develop business opportunities.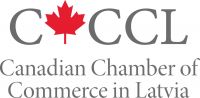 Yours Sincerely,
Seating capacity is limited. We encourage early registration. Advance payment is required and your place in the event will be confirmed when we have received payment. Preference will be given to paid guests. Unpaid registrations may be cancelled should the venue be fully booked. (CanCham reserves the right to charge registered persons who do not cancel their reservations by Friday, March 22nd, 2019 at 17:00.)
In order to conform to new General Data Protection Regulation ("GDPR") which came into effect on May 25
th
, 2018, please note the following:
As a recipient of our emails, we wish to inform you of our
Privacy and Personal Data Policy
described in
http://cancham.lv/about-cancham/privacy-and-personal-data-policy
which came into effect on May 25
th
, 2018 in order to conform to the GDPR. You are receiving this notice because you are either a member or a former member of the CanCham, have expressed an interest in CanCham activities, or have been recommended by clients or contacts of CanCham members who think that an association with the CanCham could be to your benefit. You will continue to receive our mailings under this policy, but you can unsubscribe from our emails at any time at the footer of our emails or by e-mailing
info@cancham.lv
. If you choose not to unsubscribe, this will be considered acceptance.
Attendees to CanCham events are advised that all proceedings during an event could be photographed, and that these photographs could be placed in public view in social media or web sites accessible to the public. Should attendees not wish their photo to appear in the public space, please advise the organizers accordingly in the notes section of the registration form.
---
---
---
---
---
---
---
---
---
---
---
---
---
---
---
---
---