Canadian Thanksgiving 2018
08.10.2018


---
We invite our members and friends to this special Canadian event.
We are pleased to introduce and welcome H. E. Kevin Rex, Canadian Government Ambassador to Latvia as
our guest speaker
.
Upon arrival you will be welcomed with a welcome drink (beer, wine, juice) which will precede
a three course sit-down dinner including:
starter green salad

roasted turkey (sliced)

with stuffing, potato, cranberry sauce, vegetable and wine/beer

desert.
Our guests will also be informed as to why the Canadian Thanksgiving takes place before the American one. Come learn the secret and partake in this Canadian tradition.
Meet your dinner!

There is nothing like the taste of fresh turkey on Thanksgiving Day!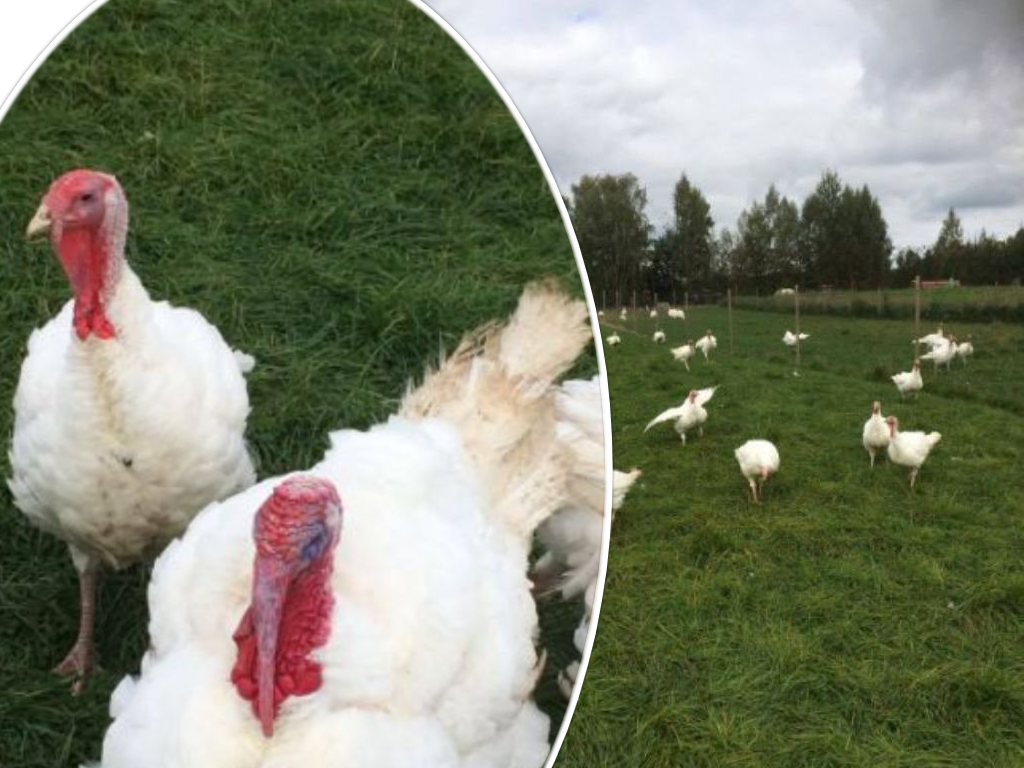 Here are some of those great domestic turkeys from Valentina Lazovska Eco farm that will be delivered and prepared by the chef of restaurant C.U.T. Aleksandrs Kosanskis.

Join us for a traditional Canadian Thanksgiving Dinner and taste the difference!
Ed Kalvins, Chairman

Please note:

Deadline for reservations is Friday, October 5th, 2018 at 17:00. Seating capacity is limited. We encourage early registration. Advance payment is required and your place in the event will be confirmed when we have received payment. Preference will be given to paid guests. Unpaid registrations may be cancelled should the venue be fully booked. (CanCham reserves the right to charge registered persons who do not cancel their reservations by Friday, October 5th, 2018 at 17:00.)

In order to conform to new General Data Protection Regulation ("GDPR") which came into effect on May 25th, 2018, please note the following:

As a recipient of our emails, we wish to inform you of our Privacy and Personal Data Policy described in http://cancham.lv/about-cancham/privacy-and-personal-data-policy which came into effect on May 25th, 2018 in order to conform to the GDPR. You are receiving this notice because you are either a member or a former member of the CanCham, have expressed an interest in CanCham activities, or have been recommended by clients or contacts of CanCham members who think that an association with the CanCham could be to your benefit. You will continue to receive our mailings under this policy, but you can unsubscribe from our emails at any time at the footer of our emails or by e-mailing info@cancham.lv. If you choose not to unsubscribe, this will be considered acceptance.

Attendees to CanCham events are advised that all proceedings during an event could be photographed, and that these photographs could be placed in public view in social media or web sites accessible to the public. Should attendees not wish their photo to appear in the public space, please advise the organizers accordingly in the notes section of the registration form.
Corporate

Members

aaaaaaaaaaaaaaaaaaaaaaaaaaaaaaaaaaaaaaaaaaaaaaaaaaa
---
Back