Connecting Canada and Latvia
19.09.2017


---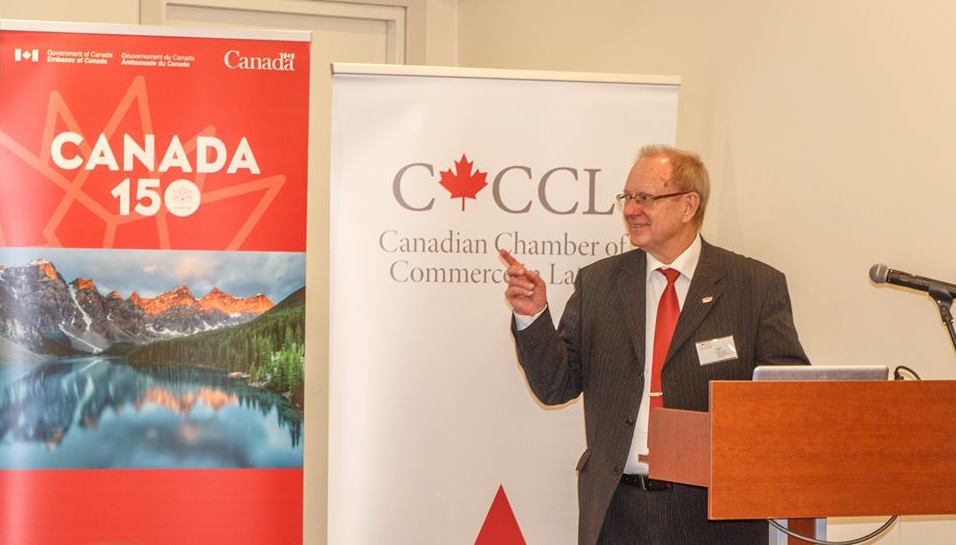 The Canadian Chamber of Commerce in Latvia (CanCham) invites Canadian entrepreneurs and business people to a reception and presentation on Tuesday, September 19th, 2017 at 18.00 at the Latvian Canadian Cultural Centre at 4 Credit Union Drive, Toronto regarding business opportunities with Latvia and Northern Europe. Please contact Ed Kalvins at ed/kalvins@cancham.lv for further information. To register, sign up at http://cancham.lv/events/cancham-toronto.
CanChamís main goal is to promote Canada-Latvia business opportunities. We do, however, recognize that Latvia itself presents limited opportunities, but itís geographic location at the centre of Northern Europe with the only ice free ports on the Baltic Sea, and its history resulting in cultural diversity, present unique opportunities for accessing Central Asia, Belarus, Ukraine and Russia, or Central Europe.
The CanCham intends to optimize the expected benefits from the Comprehensive Economic and Trade Agreement (CETA), the Canada/European Union free trade agreement that will remove most tariffs and bureaucracy between the EU and Canada and will greatly impact small and medium sized business. See http://ec.europa.eu/trade/policy/in-focus/ceta/. This will provide major export opportunities for EU and Canadian companies, particularly for small and medium sized businesses. The agreement has been approved by both EU and Canadian parliaments and is currently going through the ratification process before becoming fully implemented.
The Canadian NATO deployment to Latvia also serves to benefit the development of stronger relations between Canada and Latvia, as well as assuring security in the region.
The basic longer range strategy is to arrange strategic partnerships between CanCham members and the Canadian business community that could be interested in the Northern European market or using Latvia as a entry point into this region, or that could benefit from receiving goods and services from this area. CanCham members and their Canadian partners are expected to develop a working relationship which provides CanCham members with our exclusive business to business Managed Networking Service.
This event will be the start of the Canadian side of a process that was started two years ago in anticipation of CETA.
The Chairmen of the Canadian Chamber of Commerce in Latvia, Ed Kalvins, will introduce CanCham members interested in networking with Canadian counterparts and explain how the Managed Networking Service system works.
Program:

18:00 Meet and greet networking

18:30 Presentation by Ed Kalvins, Chairmen of the Canadian Chamber of Commerce in Latvia

19:45 Networking with refreshments.

Please visit:

Seating capacity is limited. We encourage early registration.

Yours Sincerely,
---
Back