Report on "Latvia as a Commercial" Hub with Prime Minister Krišjānis Kariņš
28.03.2019


---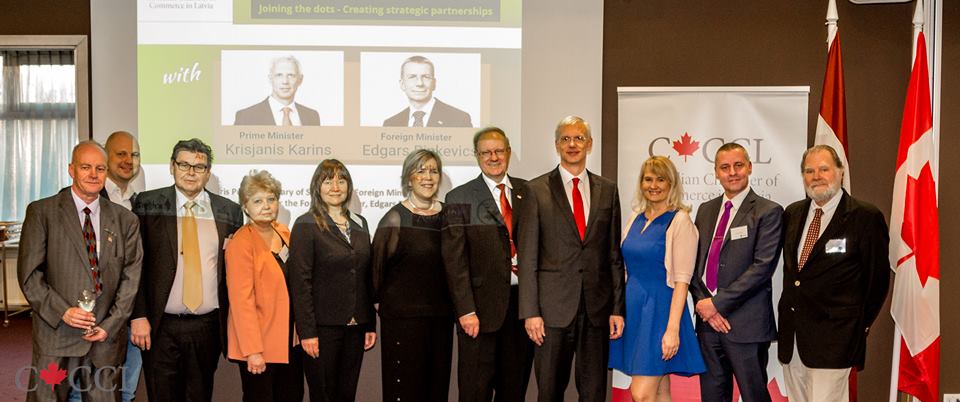 CanCham's "Latvia as a Commercial" Hub with Prime Minister Krišjānis Kariņš and Foreign Minister Edgars Rinkēvičs took place on Tuesday, March 26th, 2019 at 18.00 at the Radisson Blu Latvija Hotel. Unfortunately, the Foreign Minister had come down with pneumonia. Andris Pelšs, Secretary of State of the Foreign Ministry of Latvia stood in for the Foreign Minister to answer relevant questions. Sixty people were in attendance, along with many new faces.
Ed Kalvins started with announcements recognizing Senior Corporate members Singh's Restaurants http://www.singhs.lv/ and Bite Business https://www.bite.lv/lv and thanking Medigas https://www.facebook.com/ZSMedigas/ for sponsoring the flowers for the evening. The following new members were introduced: Corporate: Baltic Beach Hotel https://www.balticbeach.lv/, CBRE Baltics http://www.cbre.lv/en/, Satori Alfa https://goldberry.lv/en/about-us/, the International School of Riga https://isriga.lv/, Leinonen http://www.leinonen.lv/en, Exupery International School https://exupery.lv/, Granitops https://en.granitops.eu/; Business: AmberWork sarmite.teibe@app.com.lv, LaNoDe olga.godo@me.com, Jauna Forma http://www.antares.lv/; Individual: Kavitvana http://kavitvana.com/ENG_index.html, and Rohit Madaan https://rohitmadaan.com/.
Ed Kalvins then announced the launch of CanCham's DMC (Destination Management Coordinator) initiative http://cancham.lv/dmc having completed the development stage and now being implemented with the objective of building strategic partnerships & personal relationships with Canada and other international partners to promote business opportunities for CanCham members concentrating on trade facilitation & export, medical tourism and construction related services. This is the basis of considering Latvia to be a important commercial hub which lead to the introduction of Prime Minister Krišjānis Kariņš to speak about the Latvian situation.
The Prime Minister started to speak in French, which took everyone by surprise, but which demonstrated his international capability. We remember his recent exchange with Angela Merkel of Germany - in German. A very positive impression! Then switching to perfect English, he demonstrated why he is the man for the job. During his address, he clearly demonstrated that he sees problems and has a vision how to deal with them.
Mr Kariņš is a Latvian-American who operated a business in Latvia before going into politics, and as a father of four children, has a good handle on real life. He noted an example of where architects design walkways, but people tend to cut corners over grass eventually creating a mud path leaving the architect's path unused. He extrapolated this to how governments design systems based on what bureaucrats think and not what users want to use, and vowed to make changes accordingly.
He stated that his main challenge is that his influence is limited by his government partners, and explained that with four other parties making up the governing coalition with his party being the smallest, he has no mandate to make unilateral decisions. Although most coalition partners are cooperating well, there are some disagreements.
As an example, the Prime Minister cited the immigration issue, where two coalition partners are totally against any form of immigration (except the return of diaspora Latvians), but two parties recognize the need for skilled labour to meet economic growth opportunities.
The banking sector received due consideration because of recent money laundering issues that potentially could damage Latvia's credibility. He referred to the closing of the Aizkraukles Bank, one of Latvia's leading banks, and the involvement of other banks in the region. Kariņš lamented that it took American involvement to identify the Aizkraukles Bank situation, which really should have been the responsibility of Latvian and EU bank regulators. His position was that the Central European Bank should provide oversight over member states. A question was also raised about the difficulty of foreign persons being able to open bank accounts in Latvia. The Prime Minister indicated that this was being addressed in continuing reforms in the banking sector.
Another area receiving considerable attention is related to regional reform. The aim is to focus development around major towns and cities outside Riga in order to streamline the administrative apparatus. This has a direct affect on both the educational and healthcare systems which are currently struggling with funding and manpower issues. A question was raised as to the situation that healthcare services are available in Riga, but are lacking the rest of the country. Kariņš is convinced that regional reform will improve the efficiency of our systems and make better use of available funding and provide the required services.
The education system was also discussed, particularly as it relates to the trades, or the lack of attention being given to trade schools. It seems that the younger generation is being trained for universities, but if they drop out of high school or do not go to university, there are limited options available. This is also being addressed.
It is clear that there are many issues, and the Prime Minister asked for both support and feedback as the government improves the situation in Latvia. Those present were pleased with both the candid remarks and a sense of direction demonstrated by Prime Minister Krišjānis Kariņš. We wish him well and commit to supporting his efforts.
For pictures, see https://www.facebook.com/pg/canchamlatvia/posts/?ref=page_internal
Please follow http://cancham.lv/news for updates.
---
Back