Report on CanCham's Focus on Connecting Canada and Latvia – Procurement & Services with LCdr Ken Narozanski
21.07.2019


---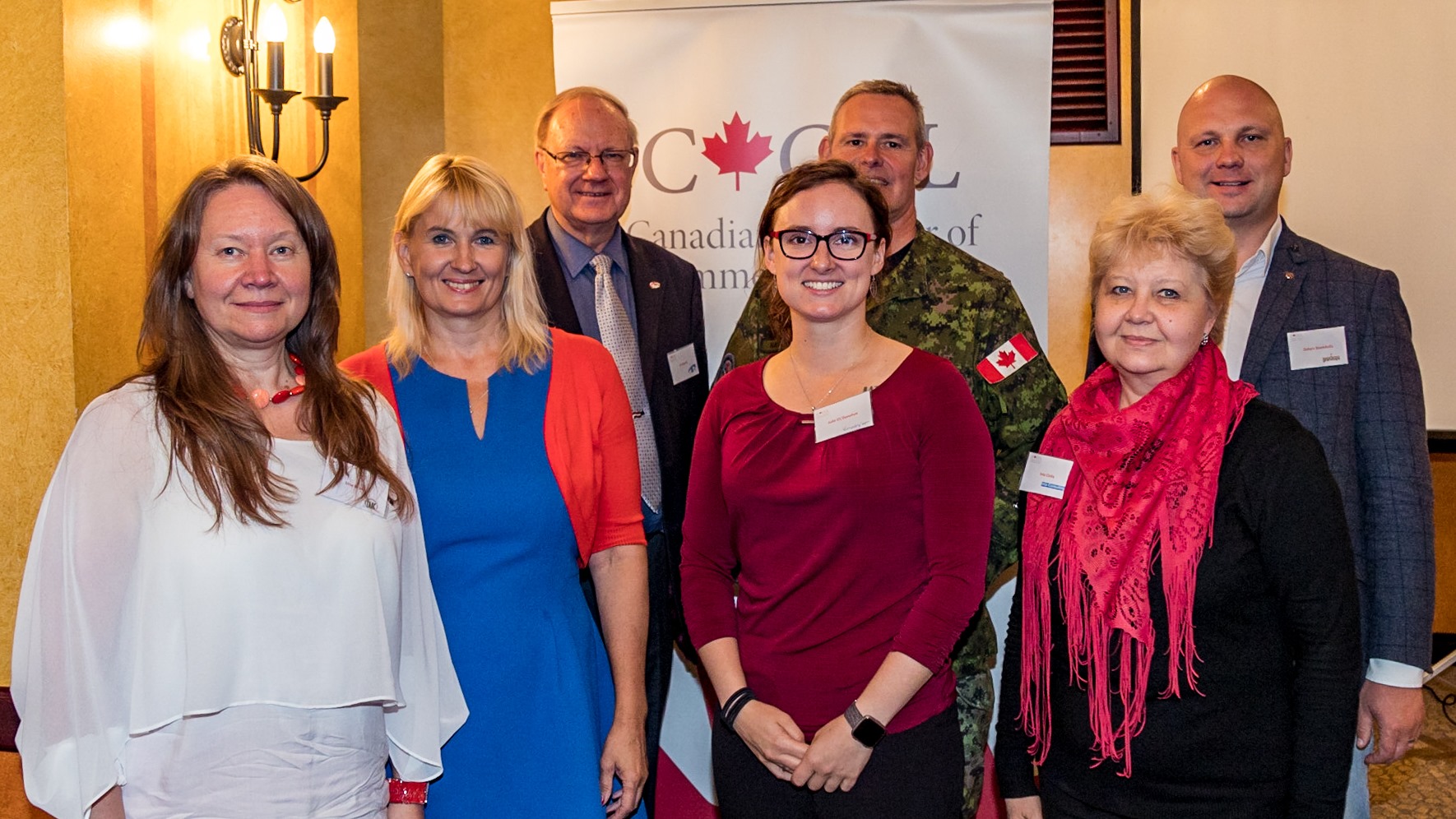 CanCham's Focus on Connecting Canada and Latvia – Procurement & Services with LCdr Ken Narozanski took place on Tuesday, July 16, 2019 at 11.30 at the Radisson Blu Daugava Hotel, 24 Kugu Street, www.radissonblu.com/en/hotel-riga.
Ed Kalvins opened the luncheon meeting by recognizing Corporate Contributing Member Exupery International School (https://exupery.lv/) represented by Julie O'Donohue and Anna Barabanova, and Senior Corporate Member Singh's Restaurants (http://cancham.lv/services/singhs, www.singhs.lv) and event sponsor ZS Medîgas (https://www.facebook.com/ZSMedigas/). New members Baltic Medical Destinations (Business) https://balticmedicaldestinations.com/ and Ingars Kalnieks (Individual) representing ExpoCafe (www.expocafe.lv) were introduced. The upcoming Drostalas Cup Equestrian competition (https://www.facebook.com/events/2229579340689298/) was mentioned.
Upcoming events were reviewed with particular emphasis on NEW, informal, social networking events which are scheduled to take begin taking place every two weeks starting on Thursday, July 25th at 18.30 at the Baltic Beach Hotel, https://www.balticbeach.lv/ with the purpose of providing a regular meeting place to meet Canadians and those interested in meeting Canadians. As this informal meeting program, develops, these events will include special features such as spa nights, teaching Canadians (and others) the Latvian national card game (zolît), learning to cook Latvian style, and other interesting activities. Other currently planned upcoming events were mentioned including:
Monday, October 7th at 18.30 – Annual General Meeting

Monday, October 14th at 18.30 - Thanksgiving Dinner

Monday, December 2nd at 18.30 CanCham Christmas

Monday, April 20th, 2020 – Business after hours at the Exupery International School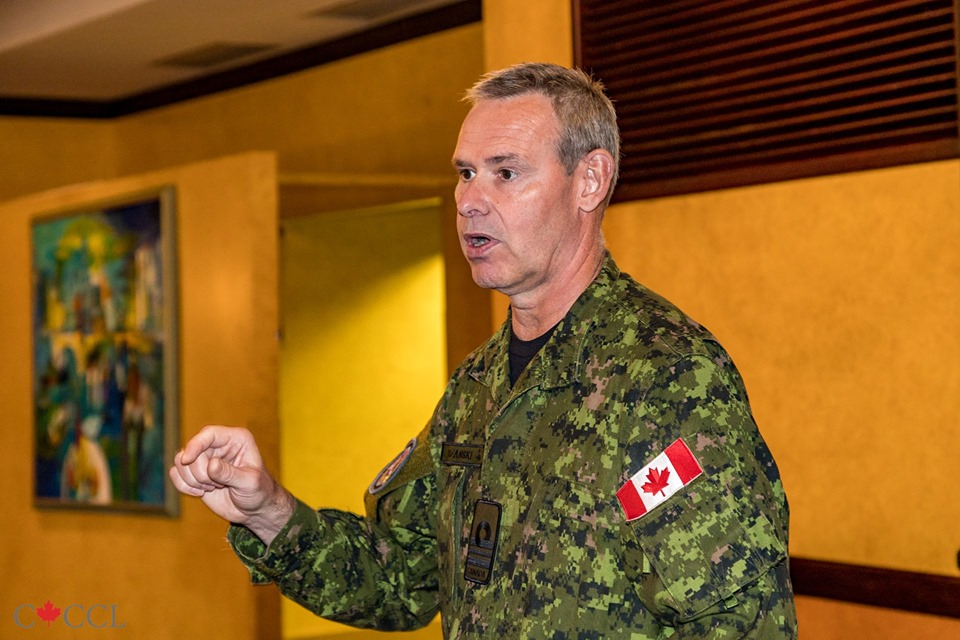 Many CanCham members have asked how they can approach the Canadian Armed Forces to offer their services to the military. We were then pleased to introduce
LCdr Ken Narozanski, OF-3, Contracts Officer, National Support Element, Enhanced Forward Presence Latvia of the Canadian Armed Forces (CAF) as our guest speaker. LCdr Narozanski stated that the Canadian military is expected to be in Latvia at least until March 2023 and has a policy of using local resources whenever possible to meet the requirements of deployed personnel. Sometimes language can be a challenge, but this is easily overcome. Normally requirements are reflected in tenders, and LCdr Narozanski indicated that he will inform the CanCham when these requirements are published. He reviewed the level of local procurement to date, and expectations for the immediate future. Those present were encouraged to exchange business cards with LCdr Narozanski in order to enhance his data-base, but our contact information can also be found in the CanCham web site under Groups.
Ed Kalvins briefly reviewed the intention of the CanCham in developing strategic partnerships between Canadian and Latvian business, something that the CAF could help with as their personnel return to Canada after a rotation in Latvia and share their views about Latvia with family and friends. By getting to know one another, there is a possibility to build relationships and trust that could lead to business opportunities and cooperation. We need to use this advantage, which is something we intend to focus on in the coming months.

Latvia offers Canadians facilitation for international business, the benefits of CETA and its gateway between the EU and Northern Europe, Central Asia, Ukraine, Belarus and even

India, Taiwan and the Far East, not to mention a safe business environment because of NATO and the EU, and of course, the Canadian Armed Forces.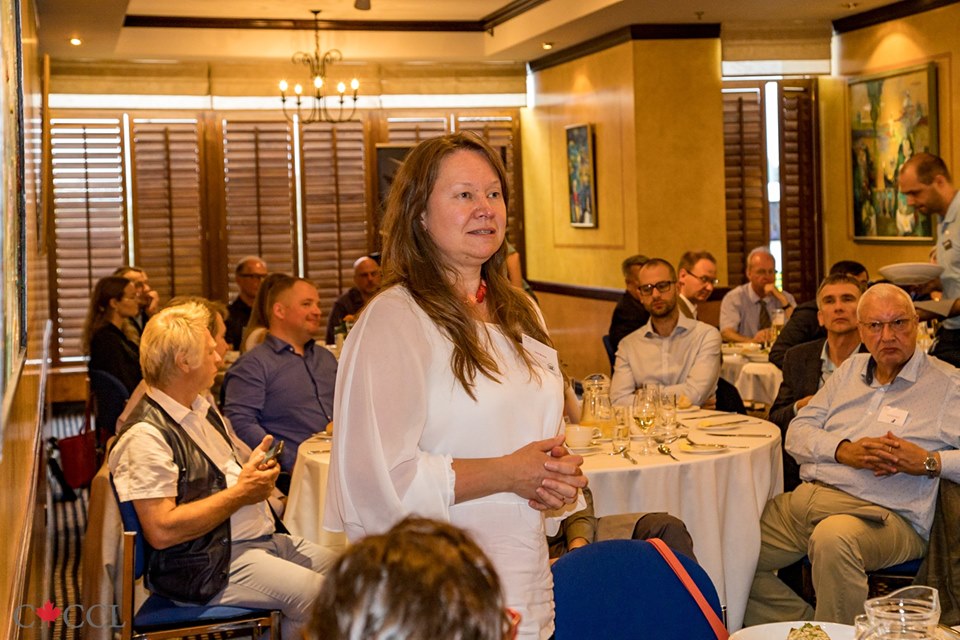 The CanCham's Destination Management Coordination (DMC) initiative (http://cancham.lv/dmc) is a trade facilitation tool meant to give business people a partners and "a friend on the other side". This recently introduced initiative is CanCham's priority for developing connections between Canada and Latvia. The CanCham is also in the process of developing a "business club" lead by the CanCham Group Leaders; again another initiative to promote business development for our members and Canadians.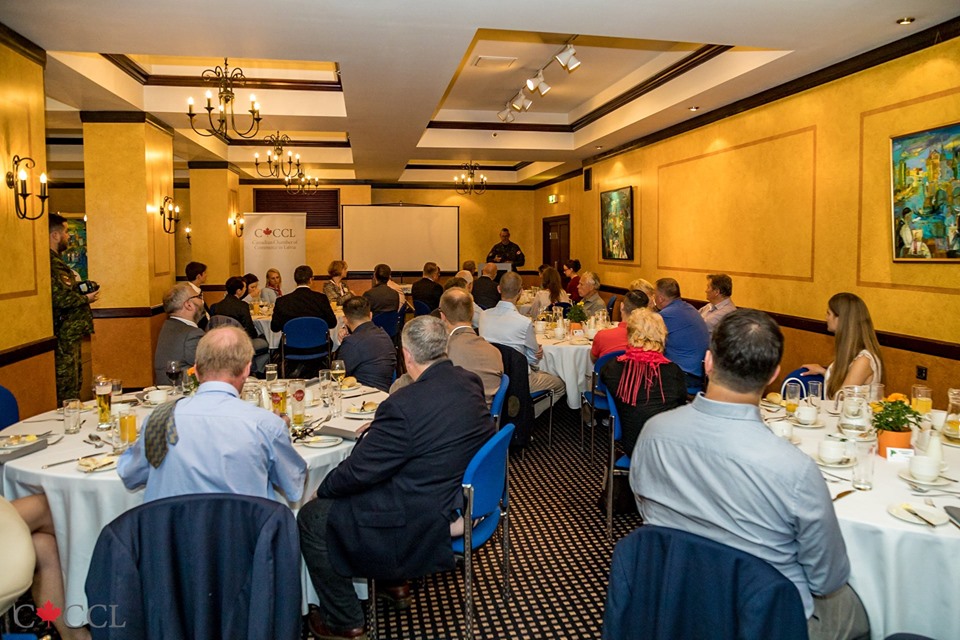 The luncheon took place in the in the Talavera section of the Radisson BLU Daugava. A tasty Chanterelle's cream soup with crispy onion and bread croutons, followed by pork fillet with potato pie Latvian style, fried bacon and horseradish cream sauce rounded out by apple pie with vanilla sauce and fresh berries mix.
Thanks to all for the pleasant and informative experience.
Presentations can be found at http://cancham.lv/cancham-members/presentations.
Pictures available in www.facebook.com/canchamlatvia/.
Corporate

Contributing

Member

Member
---
Back