Latvia as a Commercial Hub with Prime Minister Krišjānis Kariņš and Foreign Minister Edgars Rinkēvičs on Tuesday, March 26th, 2019 at 18.00 at the Radisson Blu Latvija Hotel
26.03.2019


---

Dear CanCham Members and Friends,
We are pleased to invite you CanCham's special dinner event - "Latvia as a Commercial Hub" with Prime Minister Krišjānis Kariņš and Foreign Minister Edgars Rinkēvičs.
Subjects of discussion will include:
the business climate in Latvia – trade, banks, investments,

regulations, energy – government priorities

attracting Canadian business to the region and the strategy of developing strategic partnerships through CanCham's DMC program,

CETA and its advantages for both sides,

the influence of the Canadian NATO commitment and the potential effect on business opportunities,

Latvia as a trade facilitator between Canada and the EU, Central Asia, Ukraine, Belarus and Russia, India and the Far East,

launch of the DMC program
Latvia has a geographic location that offers significant advantages over its neighbours. This, together with a recently signed free trade agreement (CETA) between the EU and Canada, the presence of Canadian NATO forces in Latvia, together with Latvia's European character but deep-rooted connections to the Russian speaking world makes it an excellent facilitator for commercial activities. Where airBaltic has become a regional transportation hub, Latvia has the potential of being a regional, if not global, commercial hub.
The CanCham has evaluated the success (or lack thereof) of current standard international business development approaches, whether they relate to import or export of services or equipment, or attracting investment, and has concluded that the DMC (Destination Management Coordination) approach and the development of strategic partnerships is the way to go. This is about joining the dots – connecting business people who can be useful to one another. We will be officially announcing the launch of the DMC program this evening.
Our newly formed government is instrumental in positioning Latvia as a credible commercial hub, yet there are sectors in our economy that must be, and are being dealt with. We are pleased to have Prime Minister Kariņš provide an overview of government priorities that deal with perceived issues. Also key to commercial development is the role of our embassies abroad and how they interact with Latvian entrepreneurs. Foreign Minister Rinkēvičs will address the role of our embassies and in particular, the role and effect of the Canadian connection. Their support is vital to reaching out internationally to develop and engage in ways to optimize Latvia's commercial performance, and we appreciate their effort in engaging with our members in seeking new development approaches to develop business opportunities.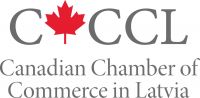 Yours Sincerely,
Seating capacity is limited. We encourage early registration. Advance payment is required and your place in the event will be confirmed when we have received payment. Preference will be given to paid guests. Unpaid registrations may be cancelled should the venue be fully booked. (CanCham reserves the right to charge registered persons who do not cancel their reservations by Friday, March 22nd, 2019 at 17:00.)
In order to conform to new General Data Protection Regulation ("GDPR") which came into effect on May 25
th
, 2018, please note the following:
As a recipient of our emails, we wish to inform you of our
Privacy and Personal Data Policy
described in
http://cancham.lv/about-cancham/privacy-and-personal-data-policy
which came into effect on May 25
th
, 2018 in order to conform to the GDPR. You are receiving this notice because you are either a member or a former member of the CanCham, have expressed an interest in CanCham activities, or have been recommended by clients or contacts of CanCham members who think that an association with the CanCham could be to your benefit. You will continue to receive our mailings under this policy, but you can unsubscribe from our emails at any time at the footer of our emails or by e-mailing
info@cancham.lv
. If you choose not to unsubscribe, this will be considered acceptance.
Attendees to CanCham events are advised that all proceedings during an event could be photographed, and that these photographs could be placed in public view in social media or web sites accessible to the public. Should attendees not wish their photo to appear in the public space, please advise the organizers accordingly in the notes section of the registration form.
---
Back