Greens' Night
20.03.2017


---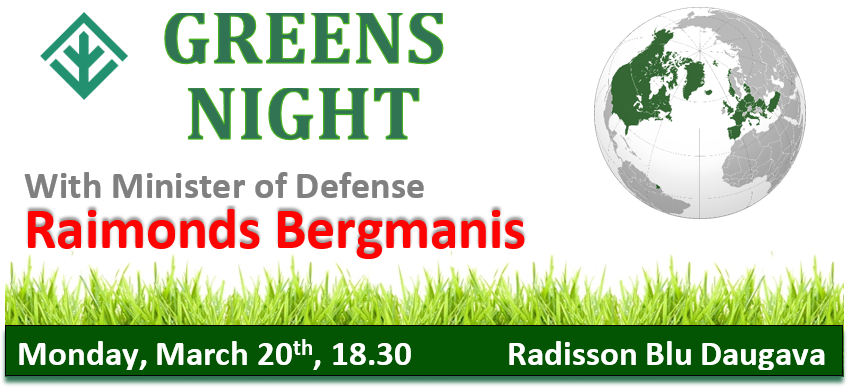 Dear CanCham Members and Friends,
The CanCham invites you to participate in CanCham's "Greens Night" for a look at defense, politics, biological farming and an example of Canadian investment in Latvia with Raimonds Bergmanis, Latvian Minister of Defense, Kaspars Ķikste, Defense Minister's Legal Advisor, Edgars Tavars, Chairman of the Greens, and Gundars Bojars, a CanCham member, owner of Vestafume and candidate in the upcoming municipal elections.
Mr Bergmanis will speak about the NATO deployment of Canadian troops and what it means for Latvia and Ādāži, Edgars Tavars, will discuss the Green party's priorities in the Saeima and the effects on small and medium businesses, and Gundars Bojars, a former mayor of Riga and candidate in the upcoming municipal elections, will discuss his experiences in the municipal elections, as well those of his own company, Vestafume TLG, which is involved in Black currant Biological farming and the Production of fresh and frozen berries with the assistance of a Canadian investor – and expanding rapidly.
Entrance charge includes refreshments (dinner not provided). Cash bar available.
Program:

18.30 Arrivals / Networking

19.00 Introduction and announcements – Ed Kalvins

19.15

Raimonds Bergmanis, Latvian Minister of Defense

20.00

Edgars Tavars, Chairman of the Greens

20.20

Gundars Bojars, a CanCham member and owner of Vestafume

20.40 Participant introductions (maximum 30 seconds each)

Seating capacity is limited. We encourage early registration. Advance payment is required and your place in the event will be confirmed when we have received payment. Preference will be given to paid guests. Unpaid registrations may be cancelled should the venue be fully booked. (CanCham reserves the right to charge registered persons who do not cancel their reservations by

17:00, March 17th, 2017.)

Yours Sincerely,
---
Back