Report on CanCham's Focus on Canada and the Canadian Embassy with H.E. Kevin Rex
15.05.2019


---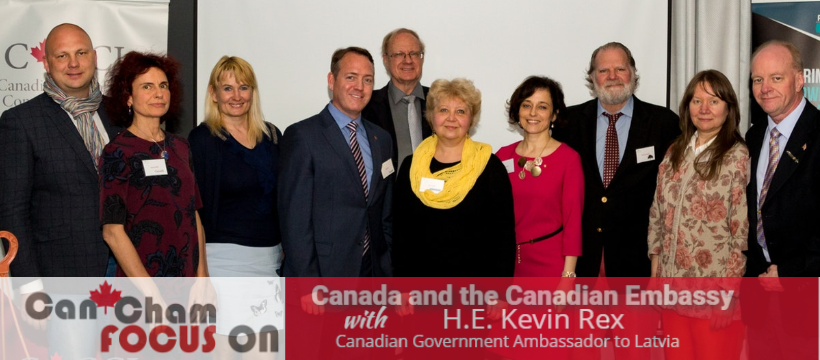 CanChamís Focus on Canada and the Canadian Embassy with H.E. Kevin Rex Canadian Government Ambassador to Latvia took place on Monday, May 13th at 18.30 at the Mercure Riga Centre Hotel, Elizabetes 101
http://mercureriga.lv/
.
Ed Kalvins provided an update on the current state of affairs of the CanCham and encouraged those present to check
www.cancham.lv
and
http://cancham.lv/news
for recent developments.
Senior Corporate Members were recognized:
New Business Member Baltic Medical Destinations (
https://balticmedicaldestinations.com/
), a medical destination management coordinator in Latvia for medical examinations, diagnostics and treatment providing full services including logistics, lodging and recreation was introduced.
Progress on the DMC (Destination Management Coordination) initiative was updated and can be reviewed at
http://cancham.lv/dmc
. The CanCham is currently recruiting DMCís in Canada with additions expected in the coming weeks. Members can contact these people directly if they are a fit for their businesses.
Changes in group responsibilities were announced.
Una BrŻna (Healthcare Group Leader) will also be responsible for the Hotels & Dining and

Travel & Recreation Groups.
Oskars StankÁviŤs (Construction Related Services Group Leader) will also be responsible for the Logistics Group.
We welcome Julie O'Donohue as the new Group Leader for the Knowledge Services Group which includes educational institutions and

consulting services

.
H.E. Kevin Rex then provided an update on Canadian Embassy in Latvia and other relevant issues such as
expansion of the Canadian Embassy in the Baltic States. Last year the Embassy had one Canadian (the Ambassador) on staff. This has now been increased to ten because of the Canadian NATO commitment to Latvia and the region. This also makes our Embassy the fourth largest Canadian embassy in the EU, exceeding even that of Spain, and has significantly enhanced Latviaís visibility in Canada.
A new Canadian Trade Commissioner has been appointed who will be located in Tallinn starting in the late summer. He will concentrate on trade issues.
the Canadian NATO commitment. Ambassador Rex outlined the personnel numbers involved that have been committed by Canada as part of the NATO enhanced Forward Presence Battle Group Latvia. The Canadian deployment is divided into two parts: the battle-ready troops stationed in ¬daĢi, and the Canadian Armed Forces European Central Command located in Riga. He pointed out that the troops are rotated every six months and leave Latvia with a very favourable impression of Latvia and our region. Other personnel are here for about three years. All these people have friends and relatives in Canada. This provides great opportunities for Canadians to learn about Latvia, and can help to promote tourism and business activities between Canada and Latvia. We need to take advantage of this situation.
the current status of CETA. It appears the Europeans are quicker to take advantages of the benefits of the free trade agreement than Canadians. Improvements in trade where Latvia is concerned are still marginal and trade between both countries is abnormally small (with the exception of aviation contracts). There is lots of room for improvement in this area.
upcoming plans of an economic/trade nature such as participation in trade shows and planned missions to or from Canada.
We thank Ambassador Rex for an enlightening presentation and look forward to expanding Canadian economic activity in Latvia.
| | |
| --- | --- |
| | |
---
Back