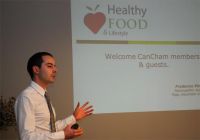 Healthy Living seminar with wine tasting!
View comments (0)


09.12.2010


---
December 9th, from 17:00 - 19:00, at the Hotel Neiburgs, CanCham hosted a Healthy Living seminar, a short presentation about the rehabilitation centre at Bruknu Muiža, followed by wine tasting.

The Healthy Living seminar was presented by Frederico Pinto, a Naturopathic Practitioner from Portugal, who now makes his home in Latvia. The main focus was "You are what you eat". Delicious snacks from Hotel Neiburgs and wonderful wines from Portugal supported this idea!

Terēzija Lasmane introduced us to the work being done at Bruknu Muiža, near Bauska. Nearly 400 youths have completed the rehabilitation treatment there. Since they receive no government funds, Bruknu Muiža is always looking for financial support. Everyone at the seminar pitched in to help and we raised Ls 57 on the spot to help with their work.
---
Back
name: