Upcoming Events as of December 21st, 2021
21.12.2021


---
Every year during Christmas, the Canadian Chamber of Commerce in Latvia organizes charitable donations to support the "Foundation Come Along!"
This Christmas, the charity event takes place in a virtual environment. See below.
The donated funds will go to the " Foundation Come Along!" and will enable children with special needs to showcase their talents to themselves and others, thus promoting integration into society through the arts – music, song, dance.
We invite you to donate to create an inclusive and supportive environment for children with special needs, in which they can develop their creative abilities and increase their self-confidence.
Thank you for your donation!

Please support our Christmas fundraiser by following the link.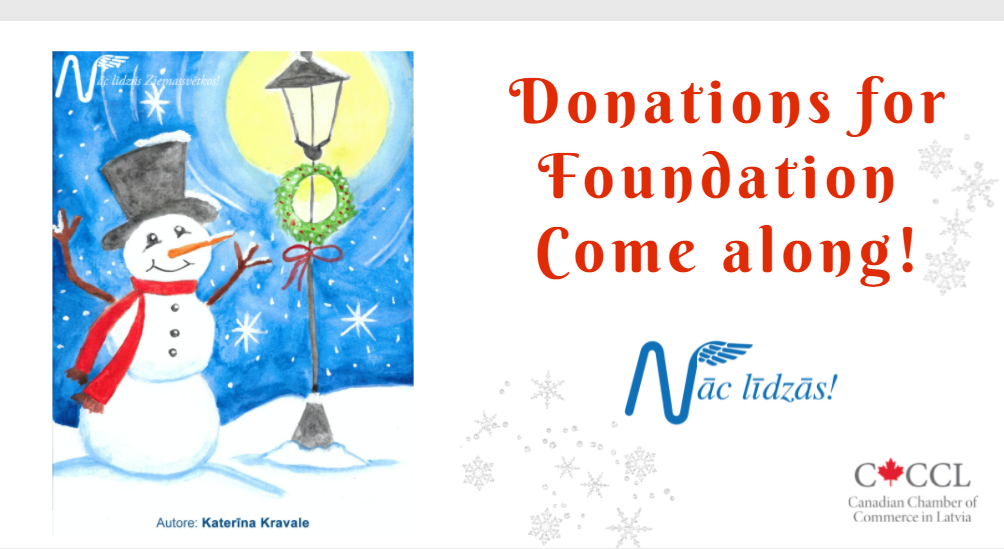 Note: The CanCham is committed to returning to in-person events as soon as COVID-19 restrictions allow. The current lockdown in Latvia has ended, and in-peron events should normalize for those with covid certificates. We will try to have in-person events with video conferencing facilities for those that cannot attend. An event program will be developed for early 2022. In the meantime, we will continue to develop our special interest projects.
Monday, January 10th, 2022 at 18.30 – CanCham's Visit Latvia Program Implementation Group Meeting via ZOOM
Members who are interested in participating in these special interest projects are welcome to attend. Please notify
ed.kalvins@cancham.lv
of your interest.
Please note that dates are tentative until events are publicized, and may be subject to change.
---
Back