The Canadian Chamber of Commerce in Latvia wishes Merry Christmas and a Happy and Prosperous New Year!
Let your holiday season be filled with love, peace and joy!
Upcoming Events as of December 21st, 2021 21.12.2021


Every year during Christmas, the Canadian Chamber of Commerce in Latvia organizes charitable donations to support the "Foundation Come Along!"
This Christmas, the charity event takes place in a virtual environment. See below.
The donated funds will go to the " Foundation Come Along!" and will enable children with special needs to showcase their talents to themselves and others, thus promoting integration into society through the arts – music, song, dance.
We invite you to donate to create an inclusive and supportive environment for children with special needs, in which they can develop their creative abilities and increase their self-confidence.
Thank you for your donation!

Please support our Christmas fundraiser by following the link.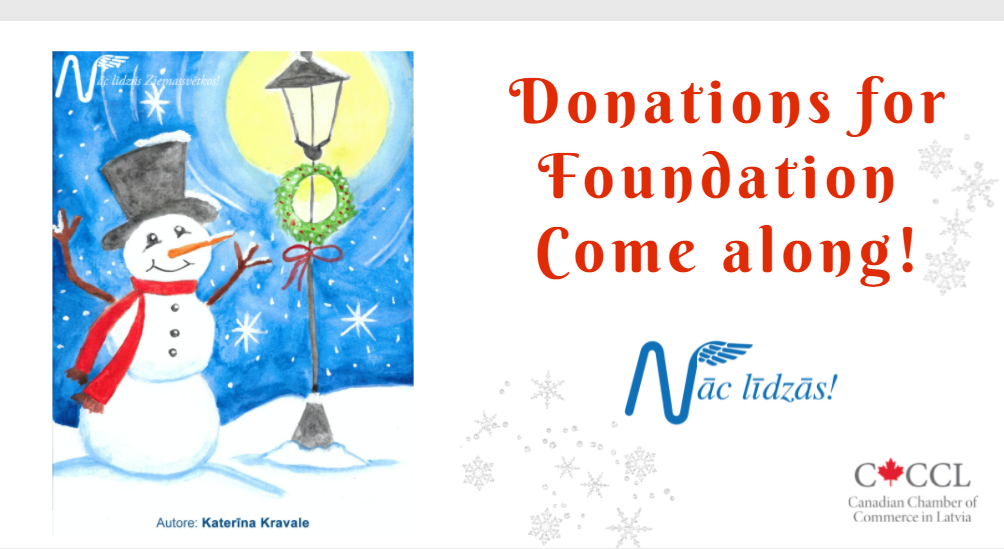 Note: The CanCham is committed to returning to in-person events as soon as COVID-19 restrictions allow. The current lockdown in Latvia has ended, and in-peron events should normalize for those with covid certificates. We will try to have in-person events with video conferencing facilities for those that cannot attend. An event program will be developed for early 2022. In the meantime, we will continue to develop our special interest projects.
Monday, January 10th, 2022 at 18.30 – CanCham's Visit Latvia Program Implementation Group Meeting via ZOOM
Members who are interested in participating in these special interest projects are welcome to attend. Please notify
ed.kalvins@cancham.lv
of your interest.
Please note that dates are tentative until events are publicized, and may be subject to change.
---
Report on the Commercial visit to Cēsis with the Canadian Embassy in Latvia and the CanCham on Friday, September 3rd, 2021 07.09.2021


The Canadian Chamber of Commerce in Latvia in cooperation with the Canadian Embassy in Latvia participated in a commercial visit to Cēsis on Friday, September 3rd, 2021. The program included a meeting with municipal leaders followed by visits to local companies.




CanCham's objective is to help develop strategic partnerships between Latvian and Canadian companies by using CanCham's

DMC

system. Our visit to Cēsis was to introduce ourselves to possibilities in the Cēsis municipality and connect with the business community in order to help Latvian companies take advantage of the EU-Canada Comprehensive Economic and Trade Agreement (CETA), which is a progressive trade agreement between the EU and Canada. It entered into force provisionally in 2017. The benefits of CETA include the elimination of duties on 99% of all tariff lines, of which 98% were scrapped when it provisionally entered into force, and improves and secures EU companies' access to the Canadian services market.




Cēsis was represented by Mr. Atis Egliņs-Eglītis, Deputy Mayor of Cesis. The Canadian delegation included Mr. Jevone Nicholas, Counsellor, Embassy of Canada, Ms. Irena Cirule, Commercial Officer, Embassy of Canada, Ed Kalvins, President, Canadian Chamber of Commerce in Latvia, as well as members of the CanCham.




We met at the at the Cēsis Concert Hall. Mr. Egliņs-Eglītis welcomed his guests and provided an overview of Cēsis. Mr. Nicholas provided insights about Canada, while Ed Kalvins stated CanCham's objectives and how they could benefit businesses in Cēsis. We agreed to work together to enhance Latvian and Canadian commercial relations by involving the local businesses.




We then visited several manufacturing facilities where the program included a presentation by and discussions with company representatives, and a plant tour.




Lode

(bricks, cement blocks): Lode's Collaboration Manager, Rolands Margēvičs, lead the tour through this well established brick manufacturing facility that owes its success to extensive, high quality clay reserves. While an export market to far away destinations seems unreasonable, we were surprised to learn that specialty glazed bricks had been shipped to Vladivostok by ship, hence export should not be ruled out. However, the idea of modernization of the facilities could be on the table, and that would involve technology transfer considerations. Lode also enjoys a substantial local market in the EU and Northern market, making it a potential collaboration partner for Canadian companies wishing to enter the region.




We then enjoyed lunch at the restaurant "Alexis", Hotel Kolonna Cesis.




The next stop was at SIA "Gaižēni" -

Livlande Agro

, where we had the chance to discuss hog production with the Owner, Alex Skovgaard Rasmussen and Deputy Director Dace Stangaine. Livlande Agro is well established in Latvia with multiple locations with much of its expertise coming from Denmark, a regional centre for hog production. The main potential for cooperation lies in technology transfer cooperation, particularly that involving waste management, though Livlande Agro does enjoy a substantial market share in the Northern European market that could be of interest to companies from Canada with specialty products or services.




Our visit to the

Institute for Environmental Solutions

, "Lidlauks" with its Director, Inese Suija–Markova was an eye-opener for the attendees. This is a locally based, private research organization networking with research organizations internationally, including Canada. Its wide project range and airborne surveillance and environmental monitoring system with research aircraft and ground penetrating radar, etc. is an excellent example of Latvian scientific ingenuity, professionalism and achievement. Their work with medical plant species was particularly noteworthy as having significant potential for export products.




Māris Danieks, the CEO of

EKJU

(manufacturers of wooden outdoor furniture) provided extensive insight to this aggressive Latvian company in the expanding markets of the EU, particularly France, and their "AMATA" brand premium class garden and terrace furniture. The tour through the facility shows why wood products manufacturing is one of the foundations of the Latvian economy. While export possibilities of lower valued products to Canada would be problematic because of freight costs, specialty products with a higher value added as in the "AMATA" line could lead to cooperation with Canadian companies with similar product profiles.




Another surprise on this visit was provided by Egons Garklāvs of Dores Engineering (wooden houses, roofing materials). While the sale of wooden houses in Europe is big business for Latvia, and

Dores

is a major player, what was most impressive was

FORMA

, their machine building division. Besides manufacturing "standard" equipment, they have developed house building, state of the art technology. This company is certainly a potentially good strategic partner for Canadian companies in the wood house building industry.




Summary of facilities visited: All were well managed organizations, with most demonstrating characteristics similar to those found in the industrial sector in Canada in the small and medium company size ranges. This means that both sides could benefit from cooperation in each others markets by using the established sales organizations and the technical expertise of each partner.




We then had the pleasure of finishing the Cēsis visit at Elmārs Tannis' property in "Ozolaine" Augšlīgatnē. Elmārs, a Latvian-Canadian from Toronto, is now a well known chef and entrepreneur who is about to open a new restaurant in Augšlīgatne. The building is currently undergoing renovations. His culinary expertise delighted our members in the currently existing outdoor area close to the new restaurant. This was an exceptional finish to the day, and we wish Elmārs great success when he opens the new indoor dining area. We'll pass on the news when it opens.




We thank Aleksandrs Abramovs and Kārlis Pots from the Cēsis Municipality for their help in organizing this visit.




Please visit:
http://cancham.lv/news

https://www.facebook.com/canchamlatvia/
http://cancham.lv/events/upcoming--events?pp=
Corporate

Contributing

Members

Senior

Corporate

Members




---
---
---
---
---
---
---
---
---
---
Show & Tell – Postponed
29.10.2020

CanCham's Construction Related Services "Show & Tell" Member presentations evening at the Radisson Blu Daugava Hotel postponed to Monday, November 9th, 2020
more ...
---
---
---
---
---
---
---
---
---