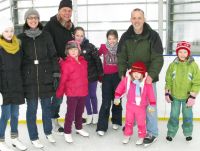 Skating event review...
View comments (0)


06.04.2013


---
On a beautifully sunny late winter afternoon the Canadian Chamber hosted a skate at Majori and a bite to eat at MaMa Restaurant.
In total 16 people attending either the skate, the bite or both with lots
of kids in the mix. Everyone had a great time. Thanks to Eriks Mikesteins for taking pictures (he is behind the camera in group shot).
Everyone agreed it was a great idea and we should do it again next year.
Ielādēju
---
Back
name: