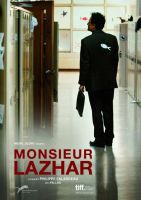 MONSIEUR LAZHAR
View comments (0)


21.03.2013


---
Dear Members and friends of the Canadian Chamber of Commerce in Latvia:
You are invited to attend a screening of a Canadian film directed by Philippe Falardeau ''Monsieur Lazhar''
This event is organized and sponsored by the Canadian Embassy in Latvia.
''MONSIEUR LAZHAR''
Date, time and place: Monday, March 18th at 19.00 and on Thursday March 21st at 18.30 at the K.Suns cinema, Elizabtes 83/85
The film is in French with English subtitles and translation into Latvian.
Invitations are available at Cinema K. Suns and at the Embassy of Canada, Baznicas Street 20/22 6th floor (Hours of operation 8:30-5:00 Monday – Friday) on a first come – first serve basis. Quantities are limited.
Synopsis
Directed by Philippe Falardeau, the movie was nominated at the 2012 Oscar Academy Awards for Best Foreign Language Film. It features an Algerian man who recently immigrated to Canada as he is trying to cope with cultural differences facing him in the classroom where he is working as a professor.
---
Back
name: