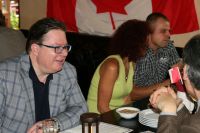 Happy Canada Day!
View comments (0)


01.07.2014


---
Another Canada Day has come and gone. In a very relaxed, Canadian like atmosphere, Canadians gathered on Sunday June 29th to celebrate Canada Day at the Stargorod brew pub restaurant in Riga. Valters Kronbergs, Canadian Chamber President, provided brief introduction words for the group of approx. 25 people who had gathered to celebrate 147th anniversary of Canada's founding by an act of the British parliament called the British North America Act. With only a handful of provinces Canada was born.

Included in the festivites were activities for kids, hosted by a very happy clown, and for the adults was a tour of the brewer part of the brew pub. After a few brew pub beers (or kvass) and some comforting pub food we headed each our way.

Happy Canada Day to all!
---
Back
name: